Creating/Editing Email Templates
You can create email templates within AppliTrack to send emails to applicants, references, other AppliTrack users.

Here's how:

You can view, edit, or create new Email templates through the "Edit Email Templates" link, under the My Account tab.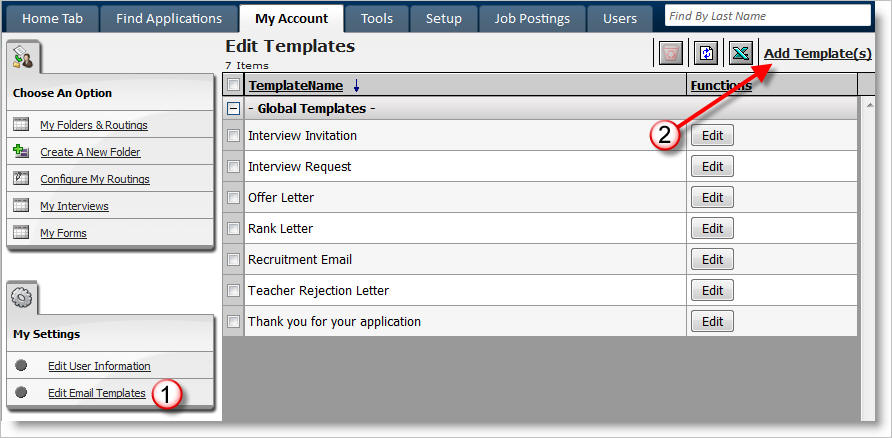 Creating a New Template
Creating a new template is fairly straightforward. Once you click on the "Add Template(s)" link, as shown in the screenshot above, you are given an editor similar to the others you've seen in different parts of AppliTrack.
The most important option here is going to be the Type selection at the top. Choosing "Personal" indicates the email template will only appear on your user account, while "Global" will create the template for all of your district's AppliTrack users.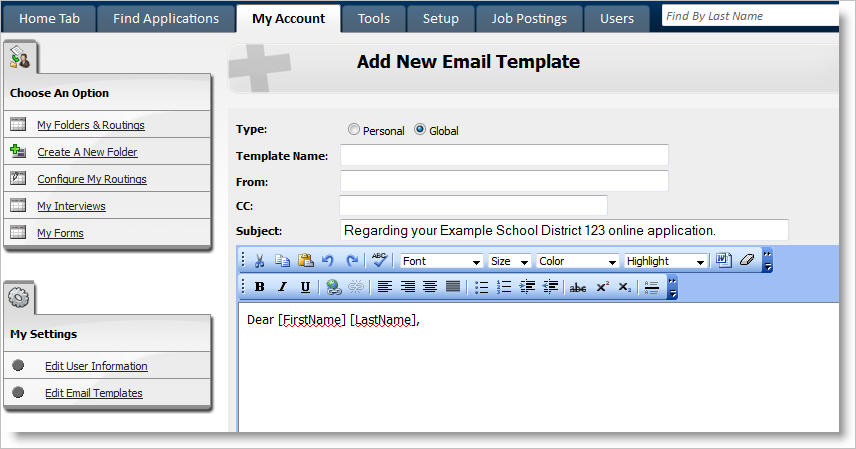 You will also want to note that the bracketed text, such as [FirstName] and [LastName], are pulled from the Applications you have selected to send the email to. This way, the correct FirstName and LastName of the reference or applicant will always be included, no matter how many applicants you've chosen to send an email to, with no further effort on your part.
Once the template is formatted to your liking, click the Add Template button on the bottom to add it as a new Email Template.
Editing an Existing Template
Editing an existing template is done from the same location as adding a new template, the "Edit Email Templates" link under the My Account tab. From here, click on the Edit button next to the name of the form you would like to edit.
The editing form is the same as you would see when creating a new one. Just edit the template to your liking, and hit save!